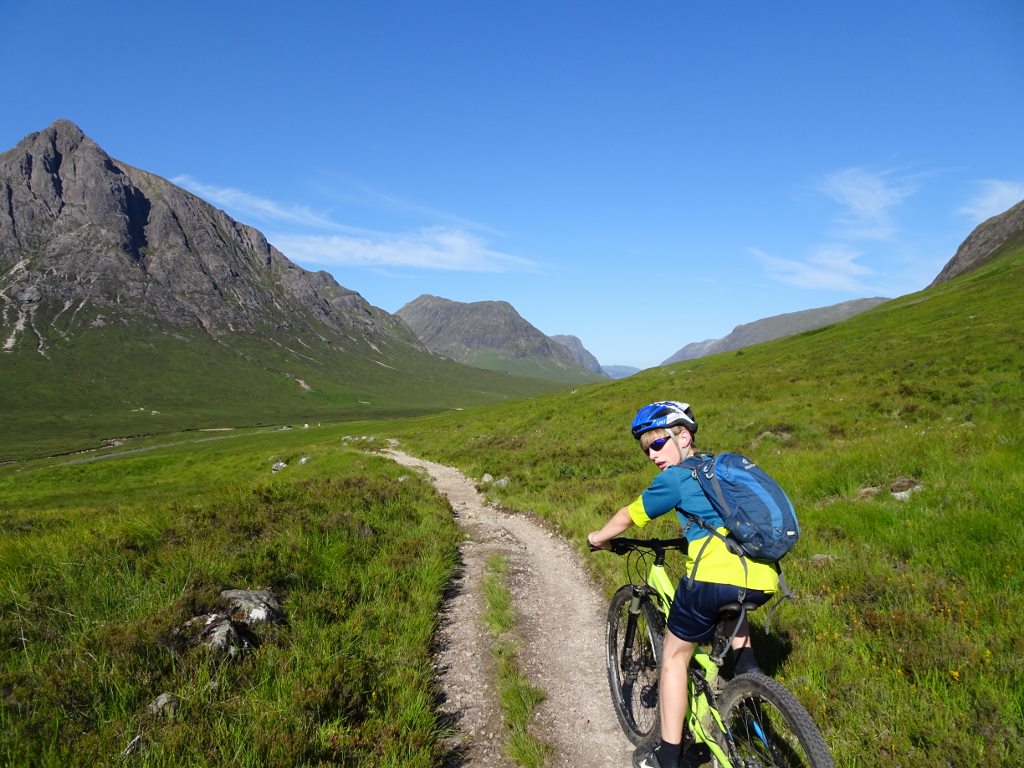 There wasn't much info around on cycling the West Highland Way a few years back, so I've put together some notes below to assist you with planning your expedition. If you have any queries, why not email me and I'll try to help.
Introduction
The West Highland Way is an amazing route to cycle. It takes you from Scotland's largest city, alongside its largest loch through some if its most famous glens to the foot of its highest mountain. Along the way it visits some iconic scenery and also includes some amazing riding. There isn't a great deal of gnarr directly on the route, but that's not really what you do it for. Having said which, If it's gnarr that you're after, you can easily add in some of the options noted in the test below. I've put together some notes below on doing the route over a few days, and then a few pointers in case you fancy trying it in a day (IAD). I'm trying to focus here on the MTB aspects of the route, and assuming that you know the key things like where it starts.
The Map
Before you go much further with your planning, buy this map: It's absolutely excellent for planning daily distances, stopping points and getting your bearings.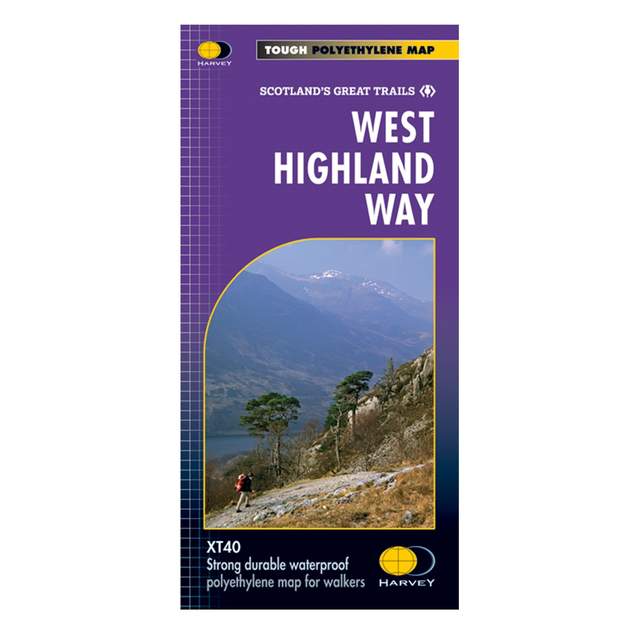 Luggage
You can of course take all your kit with you on the route, especially if you're planning on staying in B&Bs or are a hardened tourer. However, if you want to enjoy the cycling a bit more, and want to take a decent bike lock then I can highly recommend AMS. For about £45 they'll take your bag from you at Milngavie station and transport it to each overnight stop before you get there each day. They'll then leave it in a locker at Fort William station for you to pick up.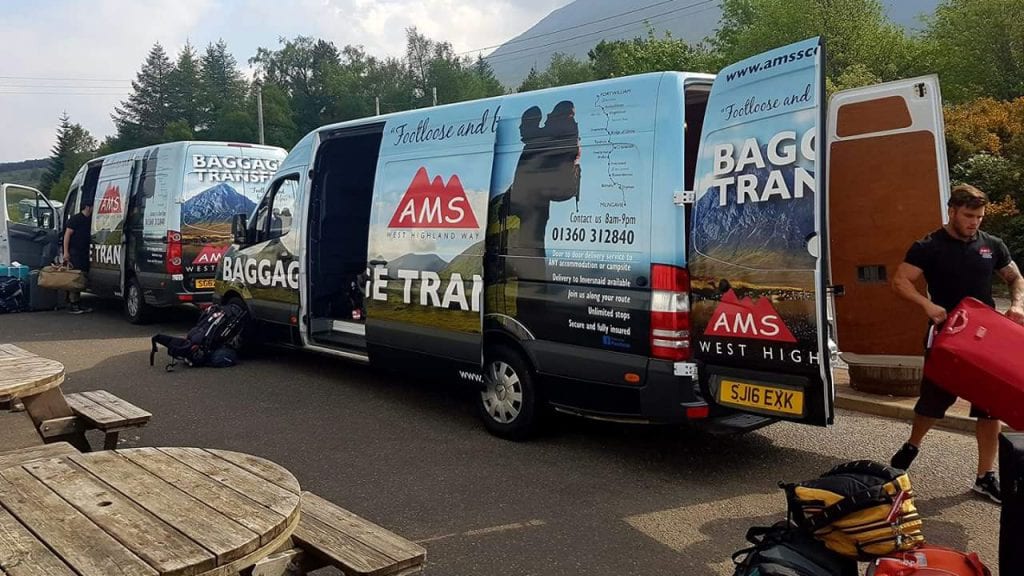 Getting Back from Fort William with bikes
Book the bikes in advance… As I'm sure you know, UK Rail is woeful for taking bikes. Most of the trains only take 6 bikes or so, and the chances are that there will be a few cyclists milling around at the booking office desperately trying to get their bikes booked on.
Avoid the stress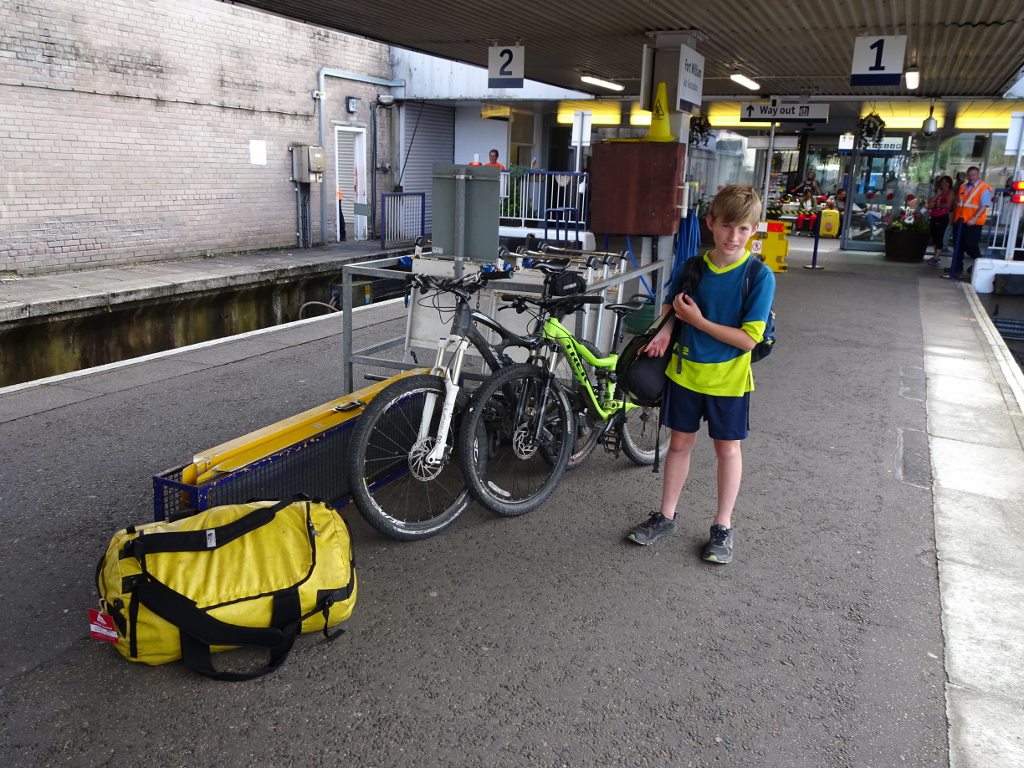 How Many Days?
This is the key factor that will dictate where you stay.
It's eminently possible for a fit cyclist with good support to do it in a day, indeed Rob Wardell did it in under ten hours!
However you do need to be swift, well equipped and reasonably lucky with the weather for this to be a pleasure. Assuming you want to appreciate the riding slightly more then the 154km can logically be broken down into the following options:
| | | |
| --- | --- | --- |
| Days | Overnight Stops | Daily Distance /km |
| 2 | Crianlarich | 75, 78 |
| 3 | Inversnaid, Inveroran | 54, 47, 52 |
| 4 | Rowardennan, Tyndrum, Kingshouse | 43, 42, 37, 36 |
These suggestions should be altered according to various factors:
What time you'll get to the start in Milngavie
How much extra time you want to allocate to the northern Loch Lomond section (lots of carrying)
Whether you're staying a night in Fort William or need to get the train back that last evening.
Overview of the Route
There is a huge difference in difficulty, and hence the speed with which you will cover each section of the route. This will greatly affect how you plan to do it. There are also a few bits that are worth knowing about well in advance so.
It is also useful to get an overview of the route sections to inform bike choice and perhaps luggage choice.
Milngavie to Conic Hill
Gentle introduction, fast going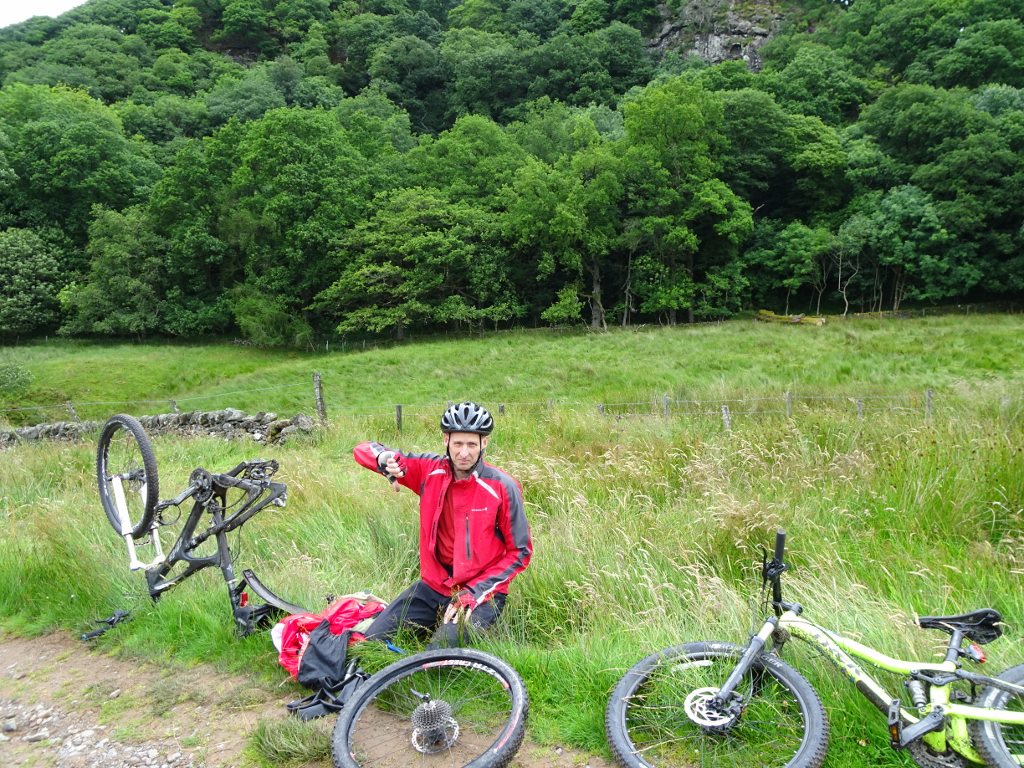 The first section to Gartness is generally wide well graded trails which is easy to get the miles in, despite the myriad gates in the Blane Valley, (but watch out for the thorns :-)). A section of road from Gartness takes you quickly to Drymen.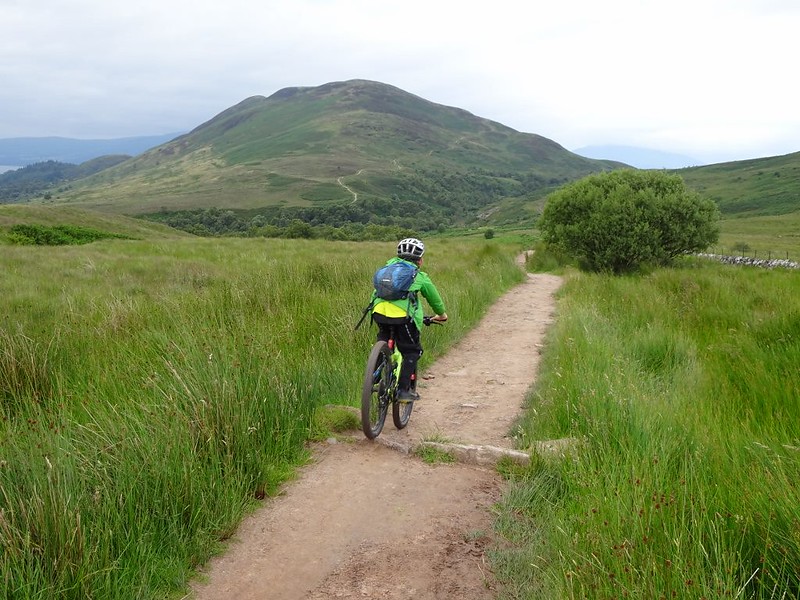 The route kicks up a bit from Drymen as forest roads take you across towards Loch Lomond. As you come out of the trees the track gets narrower and more interesting as it drops you down to the foot of Conic Hill… where the route starts to get much more challenging.
Conic Hill to Inversnaid
Steadily increasing interest & difficulty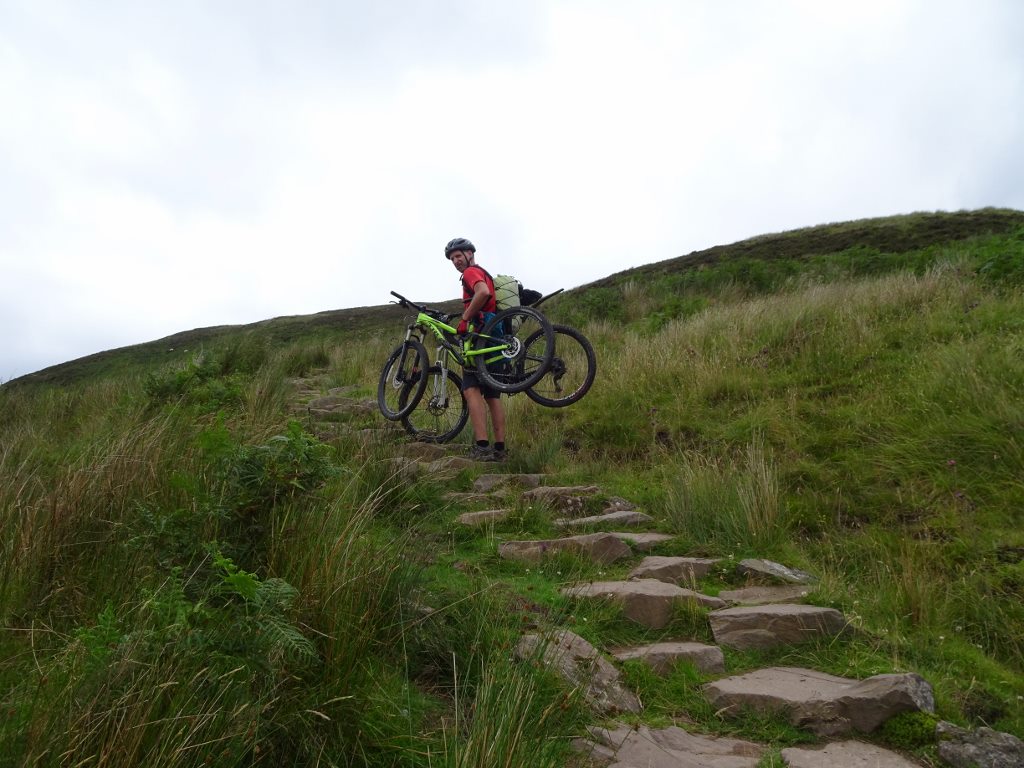 I was going to say that this is where it starts to get good, but that's not quite true. First there's the ascent of Conic Hill to be done. It's not huge by any means, but it's the trickiest thing so far and will have you carrying the bike for a while.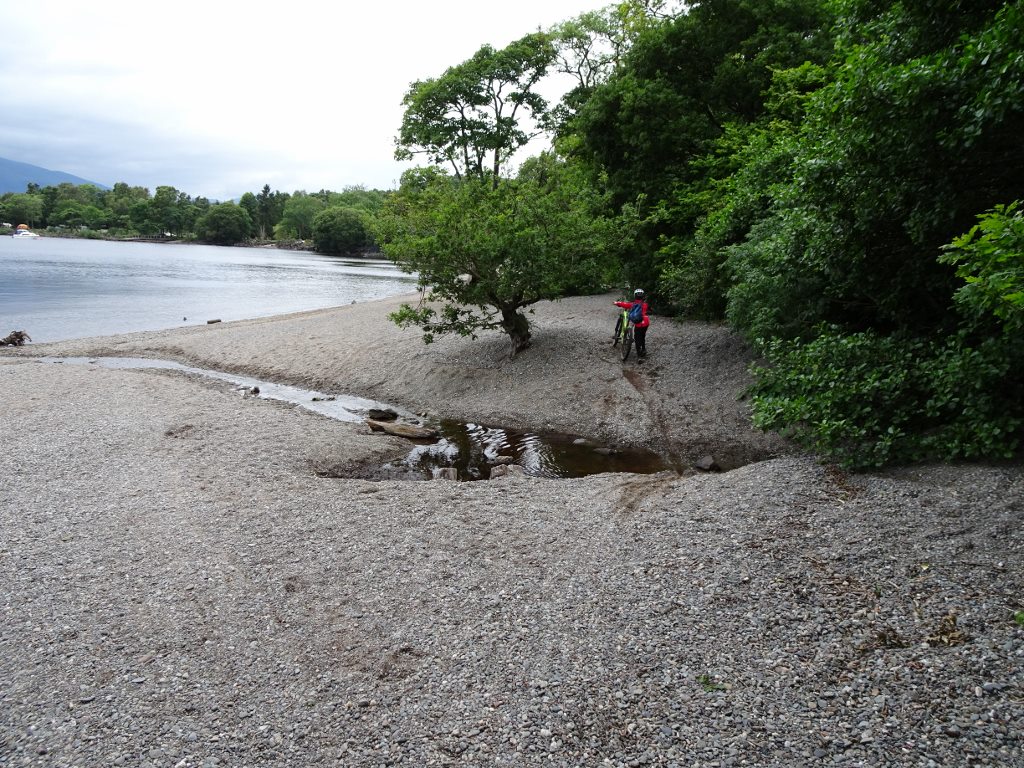 Despite the steep little hill out of Balmaha, this section is on the whole really nice. It's a mixture of lovely kitty-litter singletrack, rocks and beaches. Nearly all of it rideable and loads of it really fun. If you were thinking of adding on extra riding to the trip then Ben Lomond is a classic peak to ride (down at least) when you get to Rowardenan.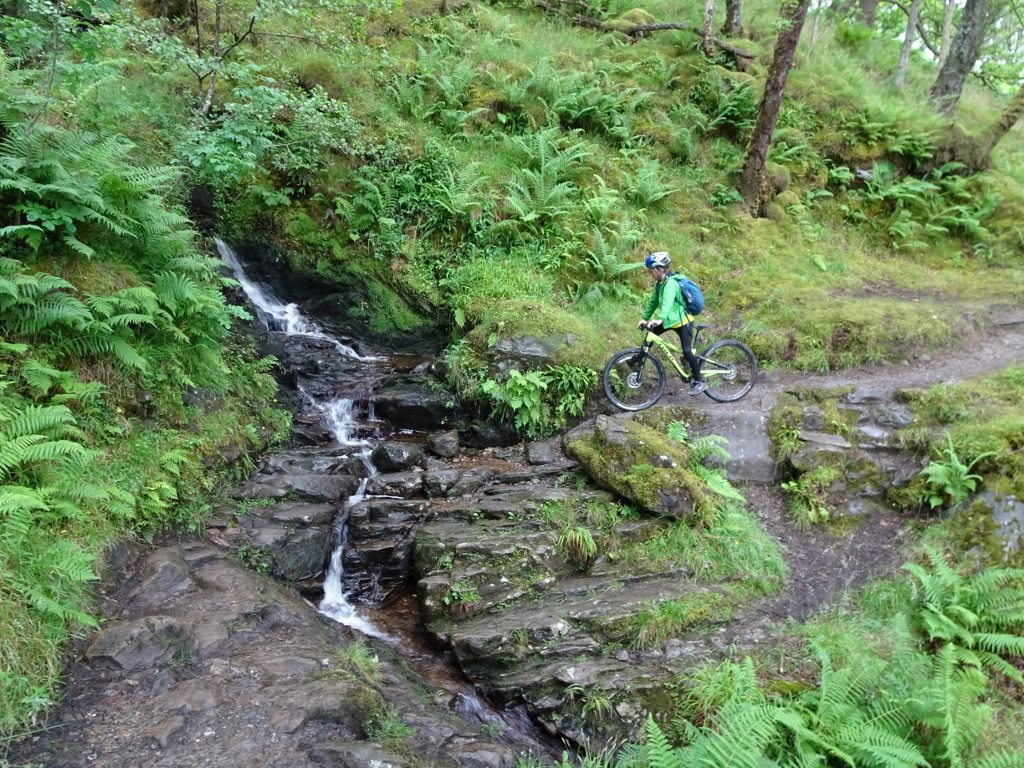 From Rowardennan onwards, the terrain gets steadily more difficult to ride and you'll find yourself increasingly off the bike and carrying over bigger obstacles.
Just past Ptarmigan Lodge the trail splits, with an easy high option on fire road and a lower lochside path which is much slower.
Eventually a bridge over a lovely gorge brings you to Inversnaid and the start of the infamous Upper Loch Lomond section.
If you've got a support vehicle then it's worth noting that the drive from Rowardennan to Inversnaid is 5 times longer than the cycle as you need to do a huge detour. Likewise the drive from Inversnaid to rejoin the WHW to the north is 55 miles.
Inversnaid to Beinglas Farm
Type 2 fun (at best)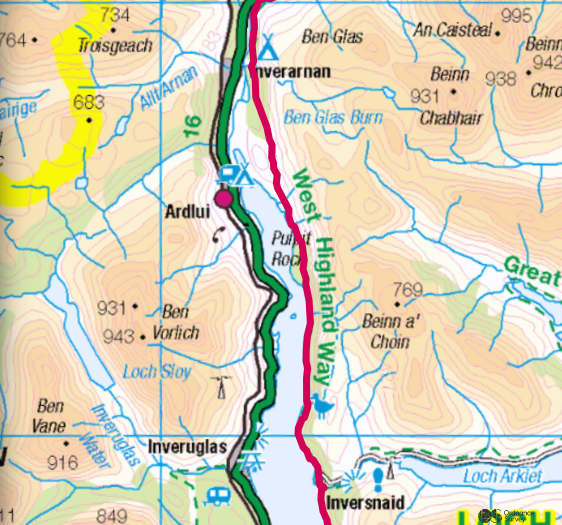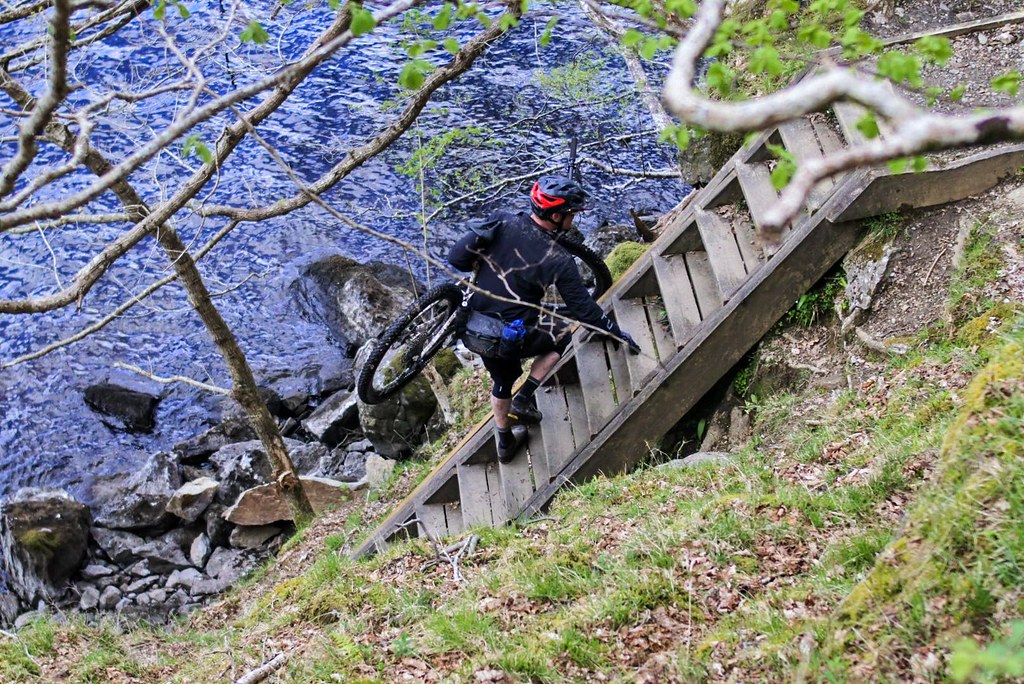 OK, full disclosure: I've never actually 'ridden' a bike along this section. The feedback from other people varied from "It's pretty unpleasant and I wouldn't reccommend it" through to "I wanted to throw my bike & luggage in the loch". Basically there are loads of rocks, loads of carrying and a fair amount of ladders. If you pack light and approach it with the right attitude then you may be ok.
Many thanks to MunroBiker for the photo.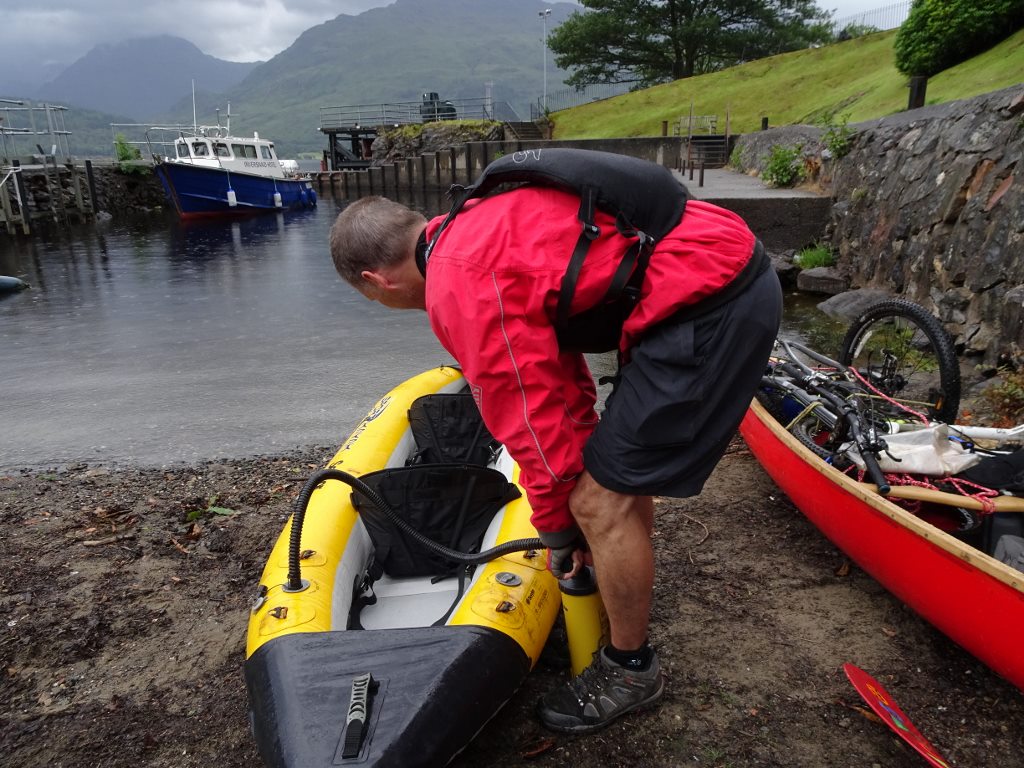 When I did my In-A-Day effort, I ran it without a bike, and on the other trip we loaded the bikes into a Canoe and paddled it instead. I can highly recommend either of these approaches:-)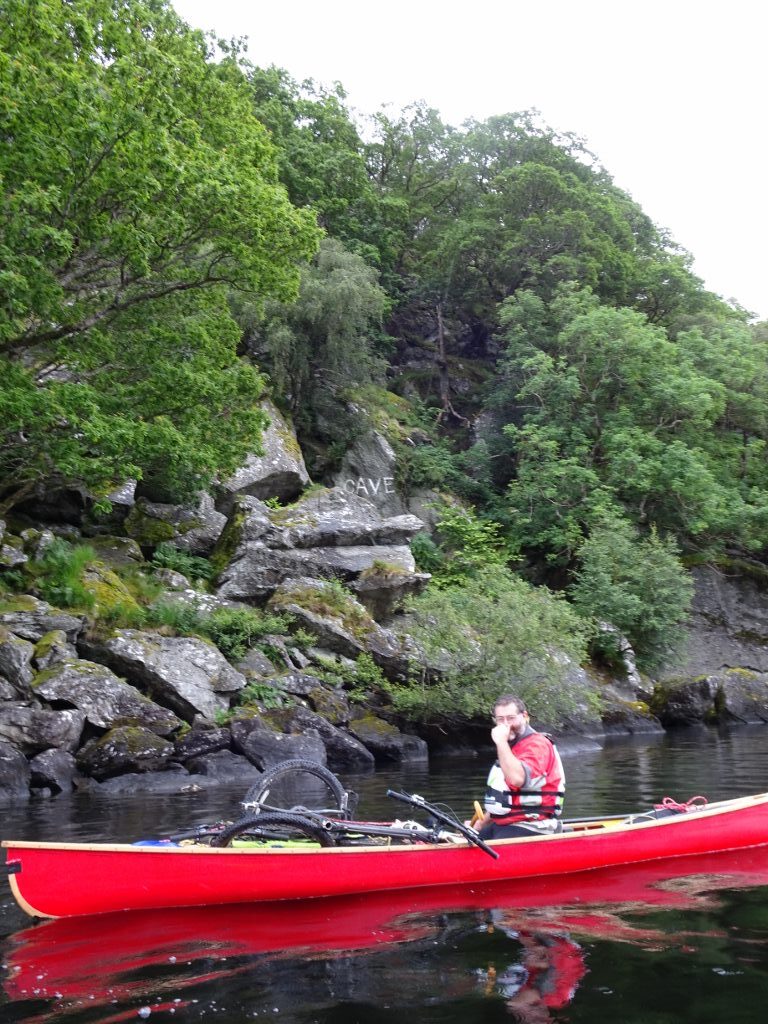 There are numerous options on this section. Instead of persuading a mate to stick your bikes in his canoe, there is also a regular ferry service from Inversnaid over to Tarbet, whence you can complete the Loch Lomond section on the A82, but bear in mind that road is horrendous in summer. There is also the Luss Water Taxi which could take you further up the Loch for a fee. If you do have support vehicle then there is also the option of them driving your bikes the 60 miles to Beinglas or putting them on the ferry and then driving them the 10 miles up the A82.
Or you could just man up and carry them for a bit.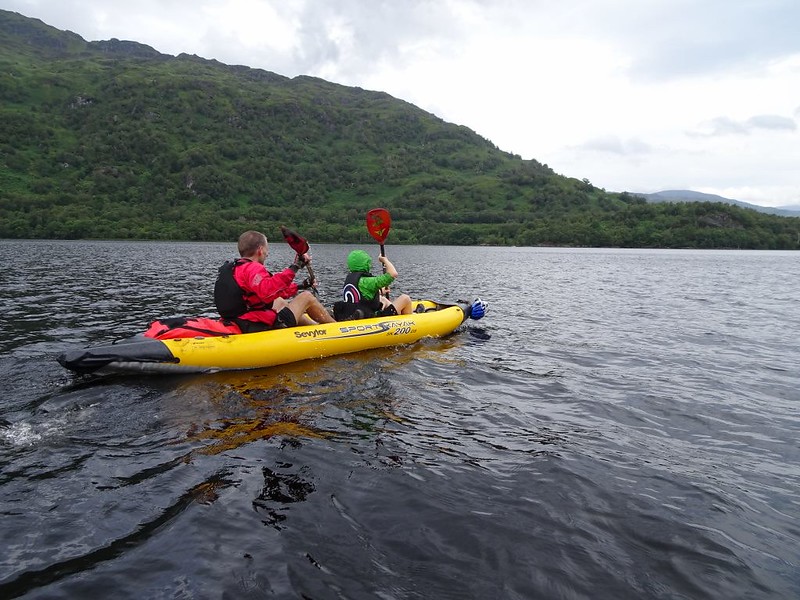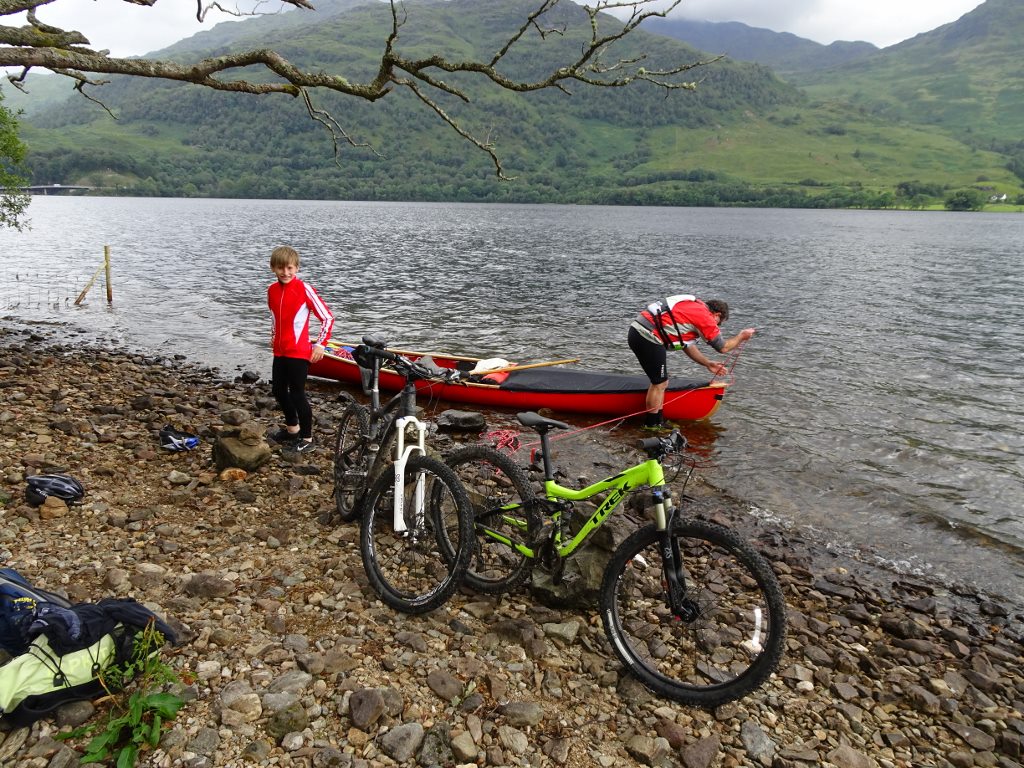 In actual fact, the really tricky bit is within the first few km of Inversnaid. We unloaded the bikes at Doune (6km), after which it gets steadily easier as you approach Beinglas Farm, with its campsite, pub & food..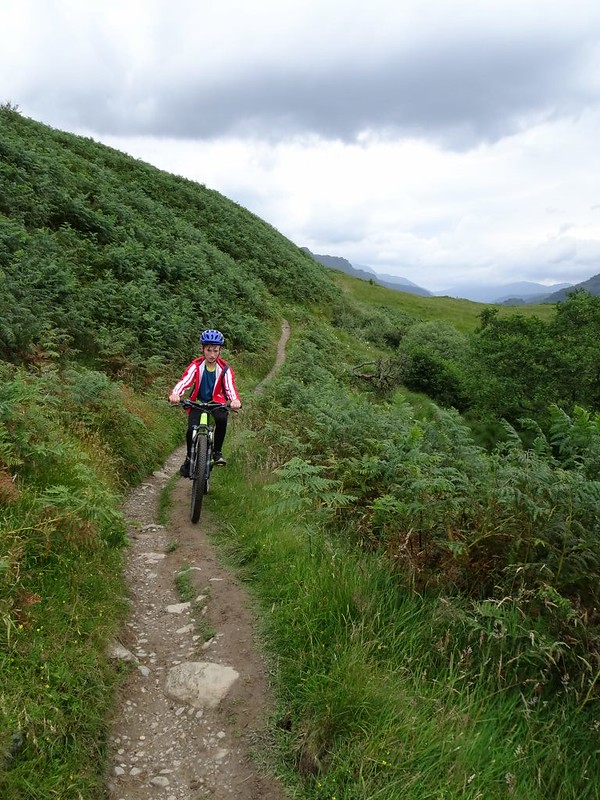 Inverarnan to Bridge of Orchy
Easy Trails, fast going, great views…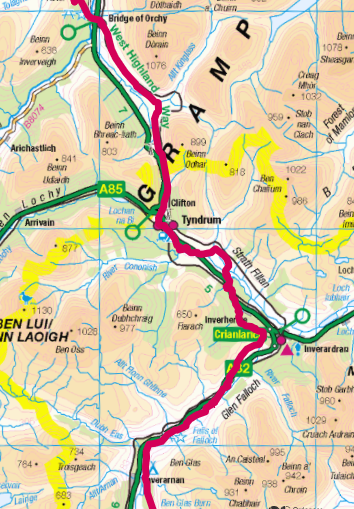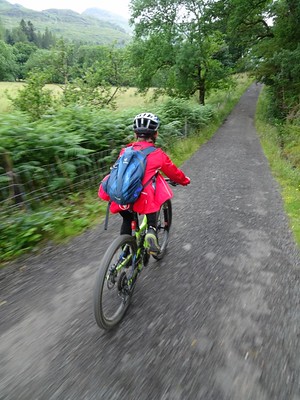 Although the trail starts to gain height from the end of Loch Lomond, it is still infinitely easier than what has come before. The trails are generally wide and fast up Glen Falloch towards Crianlarich.
Don't lose concentration though, and remember that you are on a footpath. Some of the bits of windy kitter-litter trail down past Crianlarich look exactly like purpose built trail centre tracks, but with one crucial difference…. they have no berms.
It's easy to build up too much speed on the straights and then go shooting off into the forest when you completely fail to take the first bermless bend!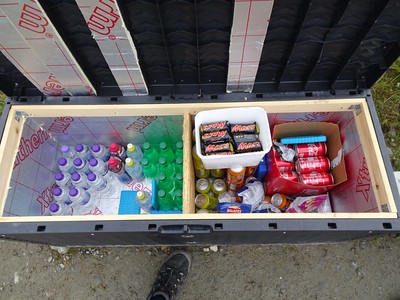 As you go further north you'll tend to find more Honesty Boxes dotted around the place, so make sure you have some cash handy to pay …..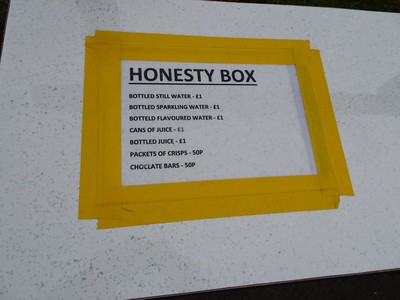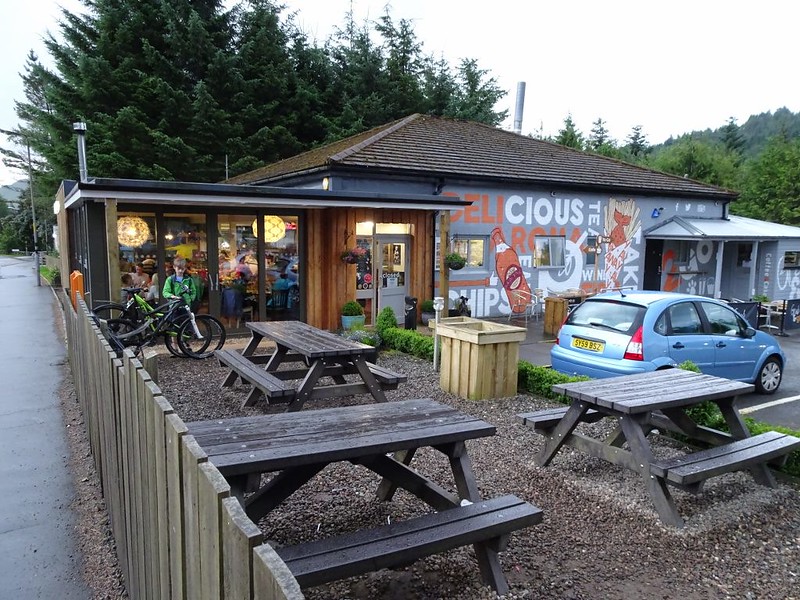 Tyndrum has a few options for food these days, with the "Real Food Cafe" now competing with the Green Welly Shop for your custom. Despite the name, the RFC seemed to have a pretty disappointing selection of decent trail food, being as it is basically an oversized chippy!
Ho hum, when in Rome….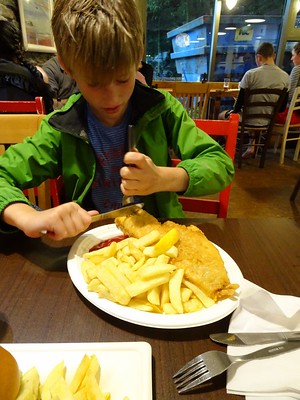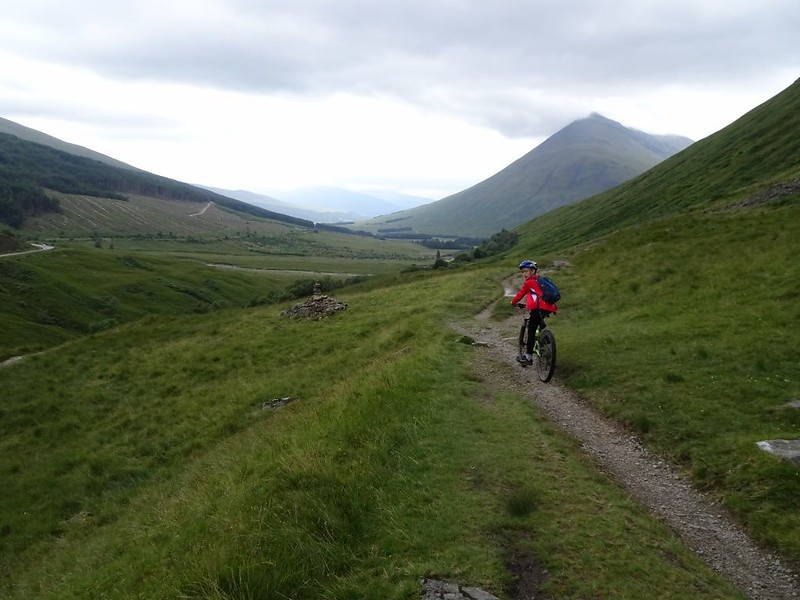 You know you're getting higher as you grind out of Tyndrum because you can see the snow gates on the A82 on the left. Again, the track here is pretty wide and smooth so quickly dipstched. At the top there are a few lovely bits of singletrack as the trail weaves alongside and under the A82 and the railway.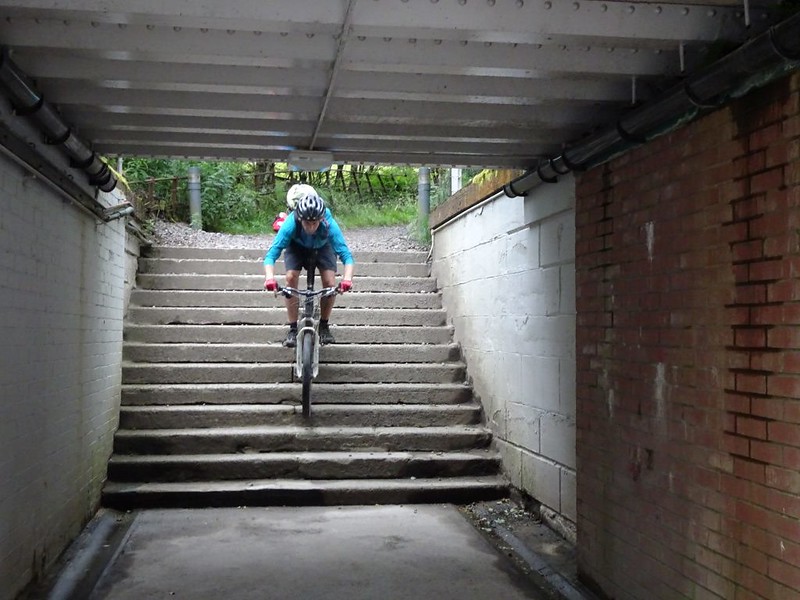 Fast fun fireroad takes you from the summit in a big curve under the railway viaducts past Auch and down to Bridge of Orchy station.
Bridge Of Orchy to Kinclochleven
Proper excellent wilderness riding…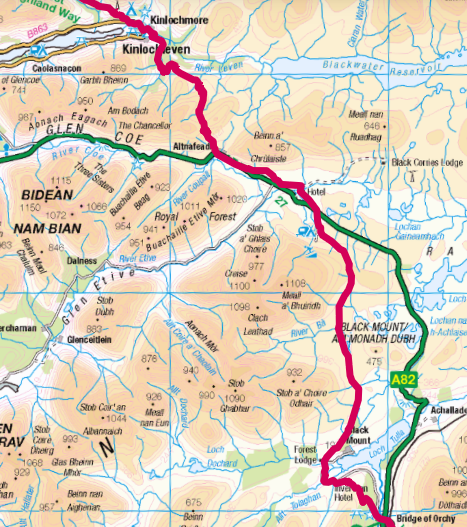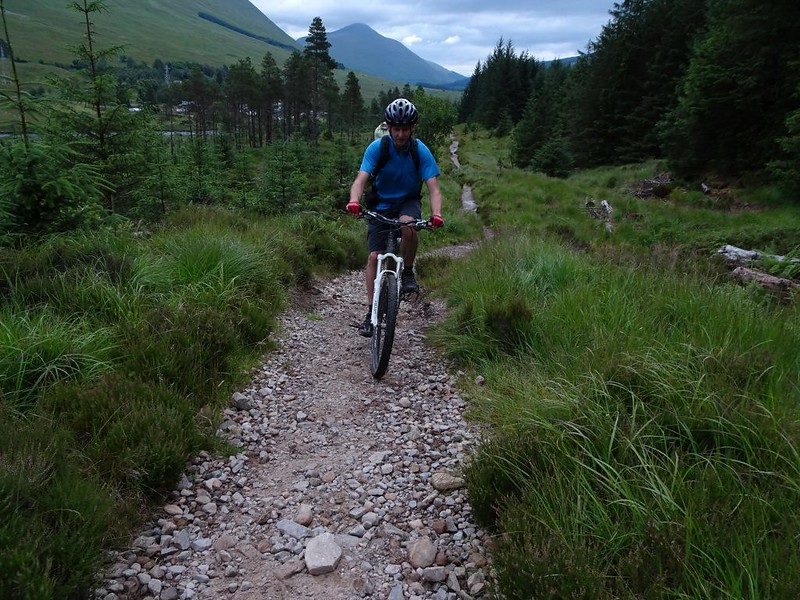 You've done the lowland intro, and the tricky sections along Loch Lomond, and you've just completed the nice bit past Crianlarich and Tyndrum… This next section epitomises what you've come for: Not only to the views get even better, and the scenery more engaging & remote, but there are some sections with properly excellent techie riding.
After crossing the bridge over the Orchy, the trail heads off up into the plantation with a complete, and highly welcome, change in character. Instead of fireroad you have a brilliant narrow rocky section of singletrack, which will require commitment and fitness to clean in one.
As the track leaves the forest, the lovely singletrack continues all the way to the top of the hill and then down the other side…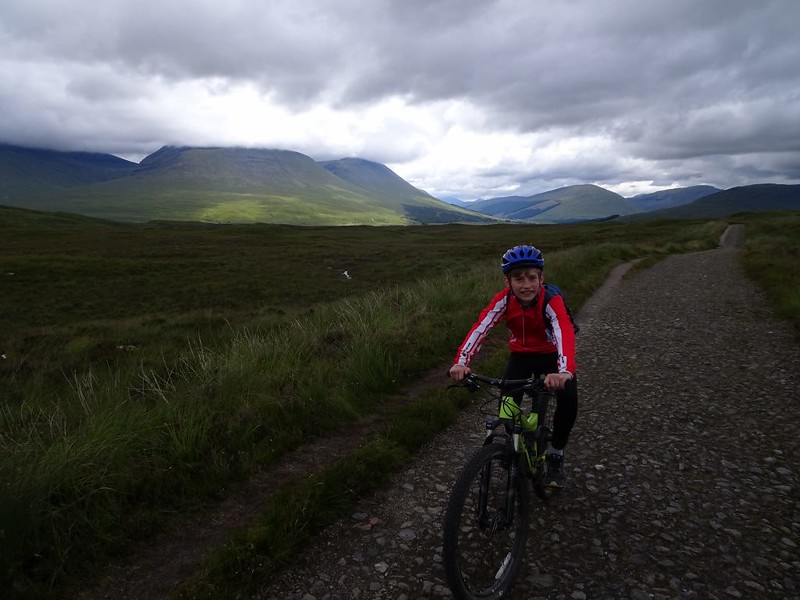 Following the great descent to Inveroran pub, the route takes the old military road across the vast expanse of Rannoch Moor. The cobbled surface is amazingly uniform and well preserved. So much so that last time round we ended up completely freaking out some walkers that had camped on the road rather than the bogs on either side. They watched us approach with great trepidation, trying to work out if our lights were a very slow vehicle or just fellow ramblers.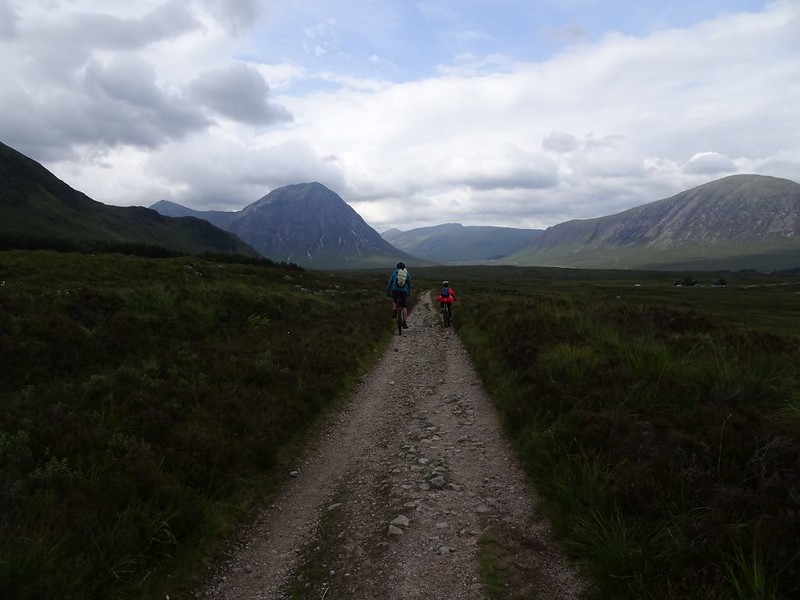 A stiff climb then takes you up the shoulder below Glen Coe Ski Centre. At this point the views ahead towards Buachaille Etive Mòr and the Glen itself are stunning.
The Hobbit Huts here provide an excellent overnight option, with showers and cafe at the Ski Centre.
Depending on where you started the day, you may well be ahead of time at this stage. A diversion down Glen Etive to some of the beautiful swimming spots is a good option, or if you've got your big bike with you then jump on the chairlift and get a few laps of the downhill track.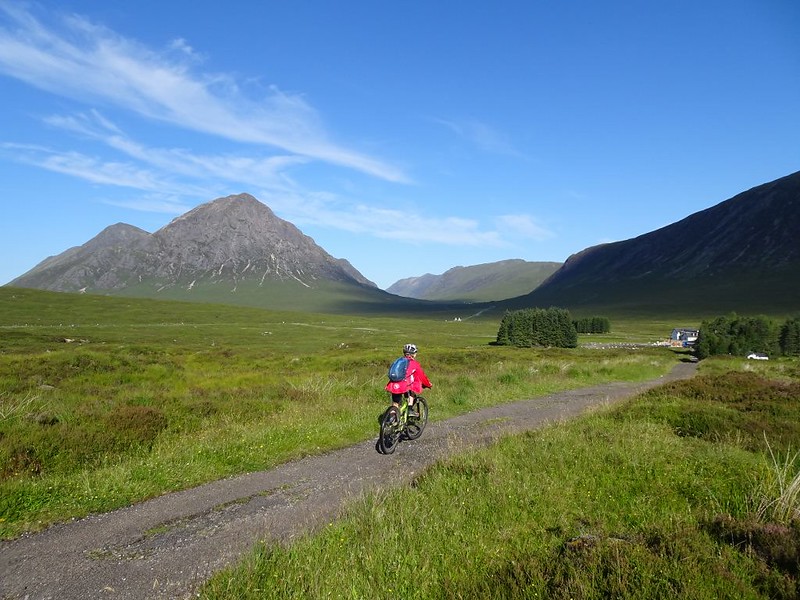 Beyond the Ski Centre, the old road drops down to the famous Kingshouse Hotel, with its even more famous view of the Buachaille. For the next hour this beautiful mountain stays with you, assuming it's not pissing with rain, and you'll spend more time taking photos than actually riding.
Which is a shame really, as the riding just north of the Kingy is brilliant. Rocky, techie, loose and loads of blasted water bars to navigate.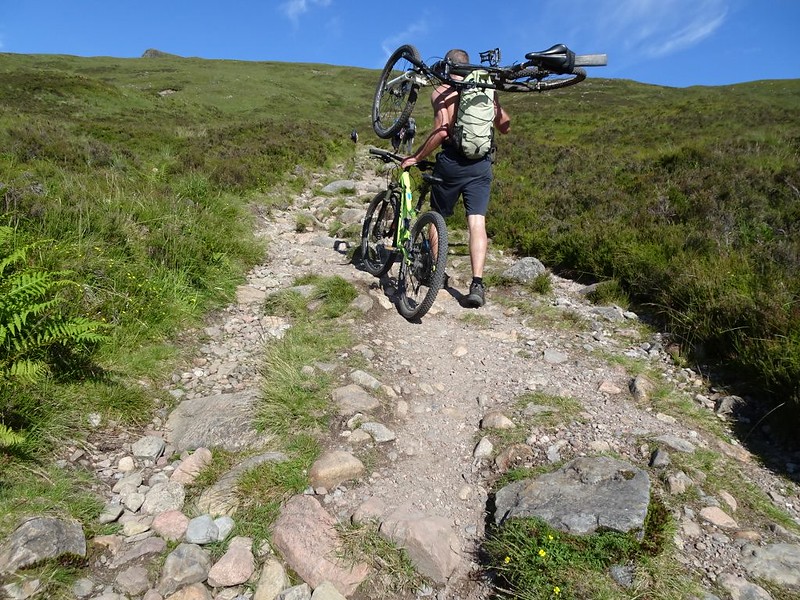 Behold the dreaded Devil's Staircase…
At this point the trail leaves the A82 and climbs around 260m to the coll. It starts off rideable, but unless you're super fit then you'll be off and walking pretty soon. Enduring the well meaning comments from all the walkers.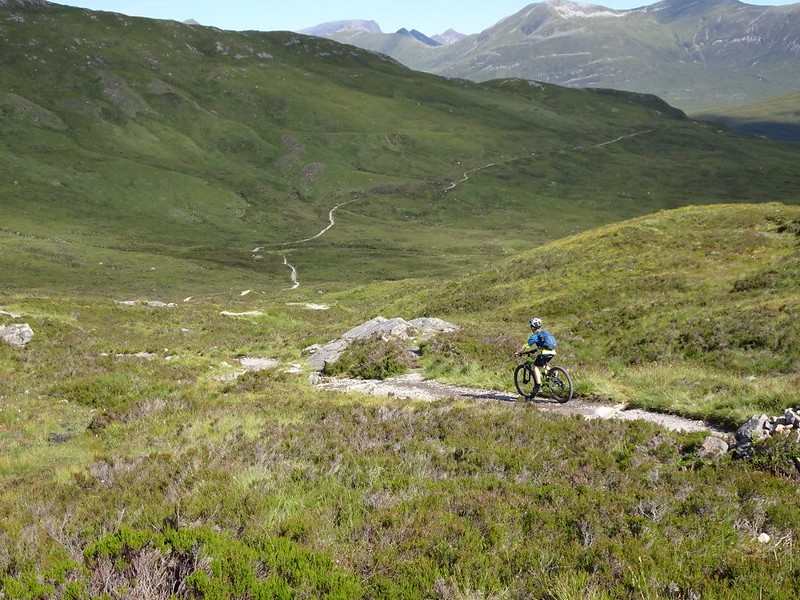 Thankfully, what goes up…
This next bit of trail is well famous. Even before they opened up access in Scotland the bridelway to Kinloch was a classic ride in its own right. As part of the WHW it provides the best views, best riding and biggest grins of the whole trip.
(Note that there is another optional Add-On at this stage, but just like Ben Lomond & GlenCoe Ski Centre it is *entirely different from the rest of the ride*. The Ciaran Path https://www.trailforks.com/trails/ciaran-path/ can be accessed by heading right up up the dam road from about half way down the staircase. Only do this route if you like very difficult, technical, rocky trails AND if you've brought a capable bike )
If not then just enjoy the Staircase descent…
Kinlochleven to Fort William
Race the sun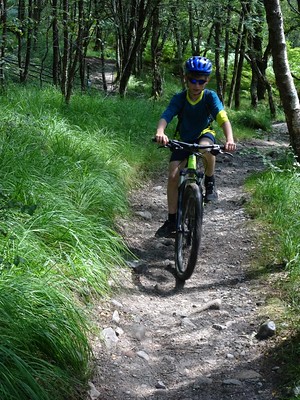 Despite (or perhaps because) it doesn't have a famous name, the climb out of Kinlochleven is a beast. You go from sea level to 300m pretty quickly up a steep and partially rideable path. (The path can actually be bypassed by continuing west along the main road for another mile and then taking the Road to Mamore Lodge – but you'd only be fooling yourself :-))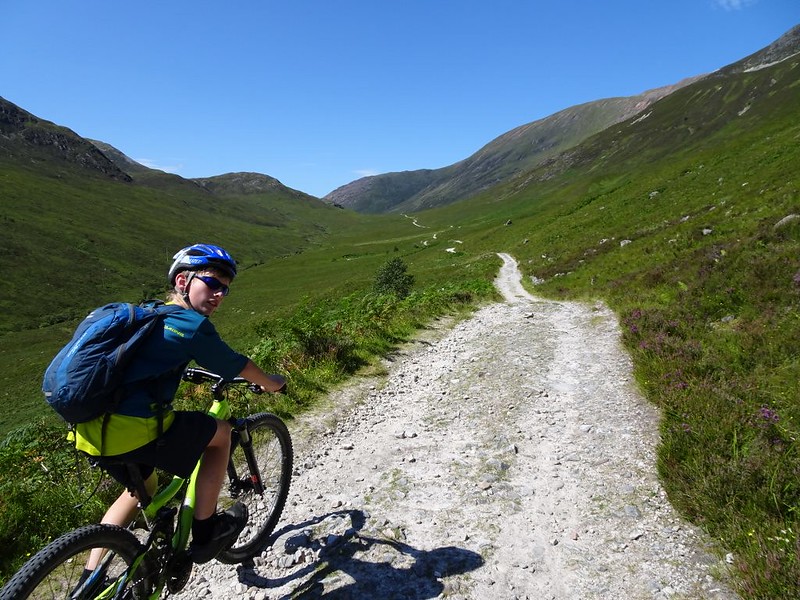 The path then opens out as it gradually gains height up to the watershed, and descends down the other side.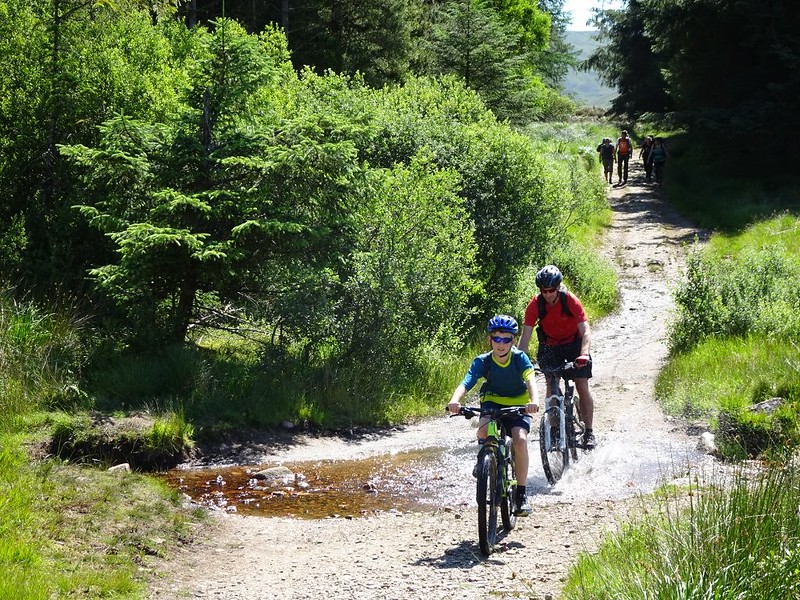 Riding is still mainly on fire roads.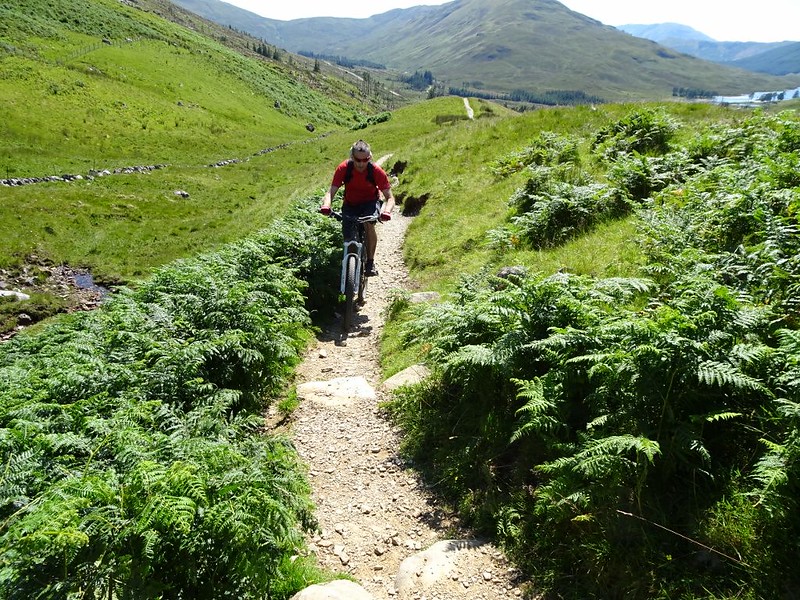 But after a while it kicks up again and there are some brilliant singetrack climbs as you approach Ben Nevis.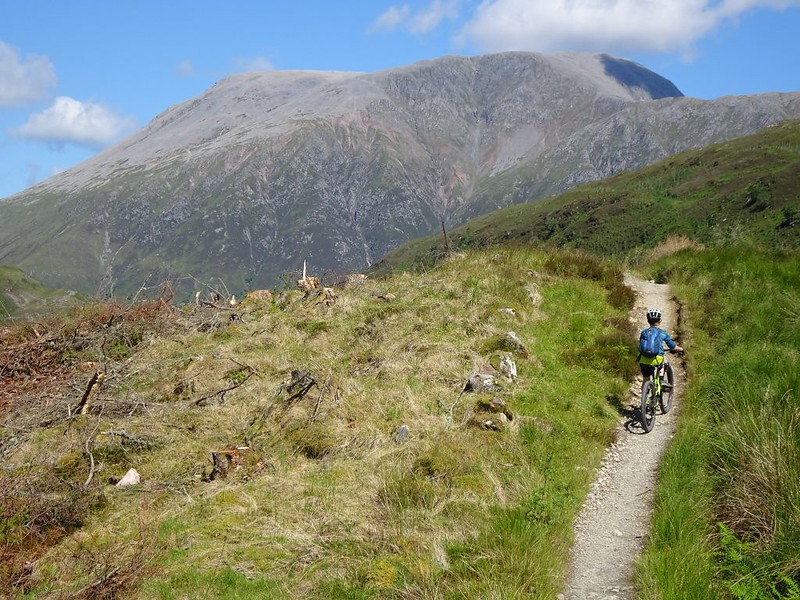 Depending on the state of the harvesting you should now have the classic view of the Nevis Tourist Path on the other side of the valley.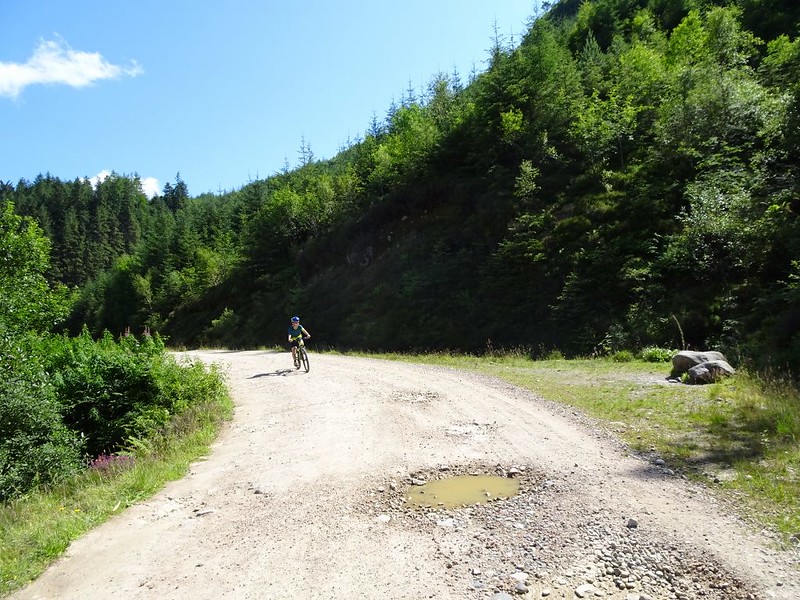 Long swooping descent into Glen Nevis